Our headquarters is in the Village of Chagrin Falls, Ohio, USA, an eastern suburb of Cleveland, where our model Click IT Store (H) is located on S. Main Street. Click on a category below to view what's in the area.
The Cleveland/Akron (Northeast Ohio) area is our current primary focus for opening stores currently because owners of these stores will benefit from an exciting upcoming co-operative advertising campaign expected to increase the value of our brand and drive new business.
Targeted Franchise Locations
The circles on the map below represent 6-miles radiuses around each location, which are exclusive market areas for each projected store location.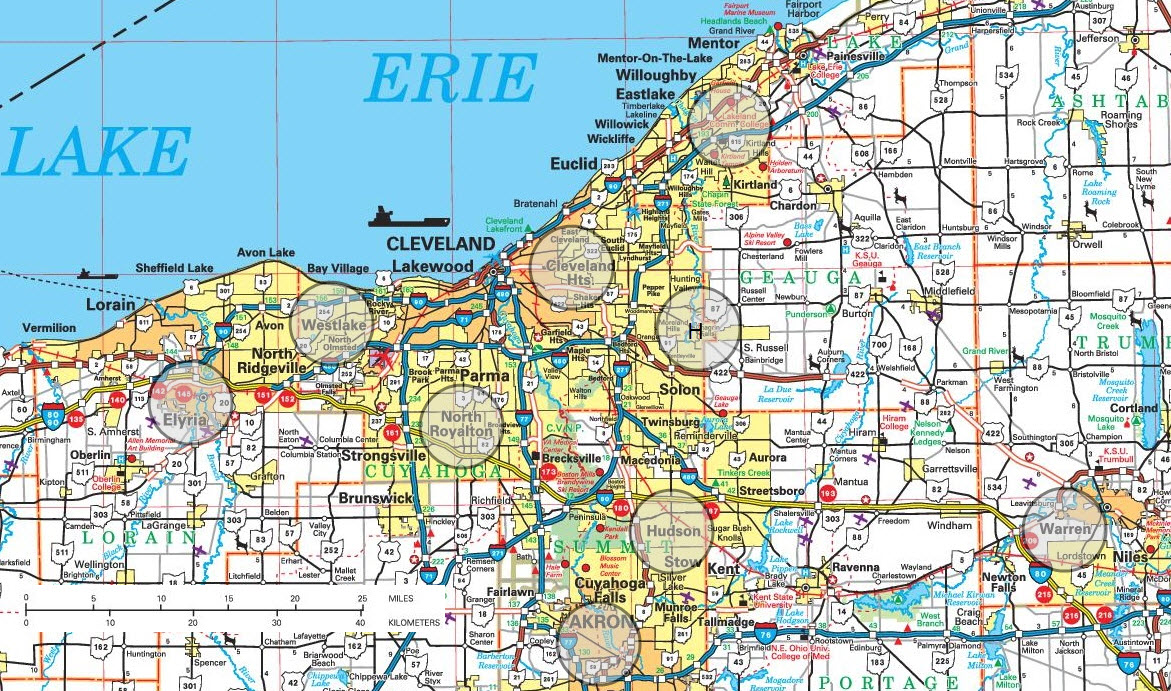 Projected Franchise territories: Protected territories are granted, which are a minimum 6-mile radius surrounding a store location, containing zip codes which tally between 50,000 to 100,000 residents as according to recent data from the census bureau. (See US Census Bureau.) If the 6-mile radius around a location has more than 100,000 residents, that's even better. We are only interested in helping our franchise owners succeed, and we believe this area is plenty for them to have a very good business with enough volume in sales to succeed. There also must be a minimum number of 2,000 businesses in a territory. Our goal is to help the franchise owner select a location where they will have the best chance of success. Start by using the Census Business Builder (CBB) tool.
Example: See https://www.unitedstateszipcodes.org/44022.
Headquarters / Corporate Store
Town
Zip Code
Population
Chagrin Falls
44022
4,113
Pepper Pike
44124
5,979
Orange
44022
3,323
Moreland Hills
44022
3,320
South Russell
44022
3,810
Russell
44072 & 73
5.212
Bainbridge CDP
44023
3,267
Bentleyville
44022
864
Solon
44139
23,348
Corporate Store Service Area
Total:
56,488
OHIO
Cleveland / Akron Area
Western Cleveland Suburb (multiple locations)
Northeast Cleveland Suburb
Southeast Cleveland Suburb
Southern Cleveland Suburb
Northern Akron Suburb
Southern Akron Suburb
Warren / Youngstown Suburb
Columbus
Northern Columbus Suburb / University Area
Dayton
To Be Announced
Toledo
To Be Announced
Outside the Cleveland/Akron metropolitan area, we are also focused on locating franchise stores in the following states:
Ohio
Kentucky - Registration in progress
Michigan - Registered
Indiana - Registration in progress
Pennsylvania
West Virginia
The States shaded in light blue on the map below are states where Click IT Franchises are currently available. If you want to purchase a franchise in a State shaded in orange or dark blue, then we will consider registering in that State. Master Franchise Agreements are also available at a discount. For more information see https://www.franchiselawsolutions.com/franchising/state-specific-laws.html.